Sun Wiring ® is focused on providing you with uncompromised quality in its performance and execution. Every service call is answered by our dedicated cabling team with close attention and commitment. Our goal is to not only satisfy your business needs, but to make this experience a rewarding one.
To better assist our clients we offer a variety of cabling solutions, which include: Cabling Restructuring, Troubleshooting, Cabling Restorations, Connection Evaluations, Cleanups and Map Documentations.
Our team counts with the expertise and knowledge required to satisfy any type of cabling assignment. We count with great access to materials and resources that enable us to carry on any type of job, anything from small to large-scale implementations, wherever your location(s) might be.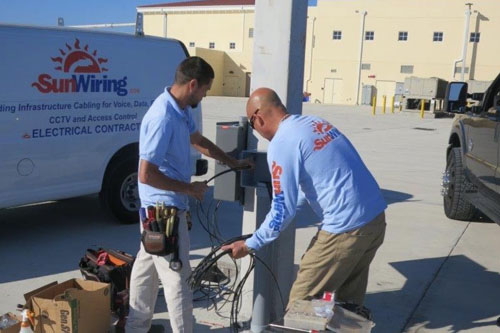 Our open availability proves to be convenient especially during emergencies. Our team is always at reach to answer any type of service call all year-round. Clients can be confident that our intervention will start and finish right on the estimated time provided.